The Cressy Courier - July 28th
To view this in your web browser, please click here.

Dear friend, 
The world of politics is a complex one. In my experience, I've found that people enter the political arena for different reasons: some seek admiration and attention, and some, too few in fact, seek simply to make a positive difference.
A few weeks ago our City lost a politician who sought, and achieved, that positive impact.
Deputy Mayor Pam McConnell passed away suddenly, and far too soon. For more than 30 years Pam served our City and her constituents with quiet and dogged determination. She left an indelible mark. The Regent Park revitalization, stopping expansion of the Island Airport, campaigns for more women in political office, Toronto's poverty reduction strategy; all these and more have Pam's stamp on them.
She was a matriarch at City Hall and the master of the art of getting it done.
On a personal level, she was a dear friend. My family went back decades with Pam. In fact, when Pam first ran for office in 1982 and 1985 it was on a joint ticket with my mother. She was a friend to my family and, in recent years, a colleague and mentor to me.
Far too often we find that those who seek to serve in public do so for selfish reasons. As in many sectors, ego is a big driver. Pam was one of the great ones, she sought and achieved impact not for herself but for the City she loved. Her passing is indeed our City's loss.
With a heavy heart,
Joe Cressy
City Councillor
Ward 20, Trinity-Spadina
---
July Council Highlights
TransformTO Climate Action Plan
I am proud that City Council unanimously approved recommendations for reducing greenhouse gas emissions in Toronto by 80 percent by the year 2050 as part of TransformTO: Pathway to a Low Carbon Future. Although it is disappointing that the majority of Councillors also voted to prioritize the actions included in the plan, rather than voting to fund the inter-related actions and plan in its entirety, we have taken the first step in addressing the crisis of Climate Change in our city.
TransformTO identifies strategies and goals to transform Toronto's buildings and energy, transportation, and waste systems by 2050. Among related motions that were adopted is one providing direction for the City to undertake community engagement on TransformTO.
Toronto Parking Authority Board
Council voted to place the Toronto Parking Authority's board of directors on a leave of absence and to set up an interim governance arrangement while the City Manager assesses the Auditor General's findings concerning a land acquisition by the Parking Authority. Council also adopted several related motions, including one by Mayor John Tory that will result in the City reviewing all its major agencies, boards, and corporations "on a rolling basis so that agencies are reviewed once per term of office," to ensure consistency with City objectives and practices.
Vacant Residential Units in Toronto
Council decided that the City will undertake consultations and a study on the potential implementation and public policy benefits of a tax on vacant residential units in Toronto. Staff have been directed to report to the Executive Committee in September on the results of that work and provide recommendations on whether (and potentially how) to proceed.
Impacts of Spring Flooding
A temporary suspension of rent and licence fee collection from Toronto Islands tenants/licensees was authorized by Council as a response to this spring's flooding of Toronto Island Park and waterfront areas. Staff will prepare a report detailing budget impacts of the spring flooding. On the islands, about 800 residents, 30 businesses, and two schools had to adapt to rising waters. Many of Toronto's waterfront parks and beaches have suffered shoreline erosion, damage, and debris accumulation over the past few months.
Planning for Children in Vertical Communities
Council approved the City's use of the draft Growing Up guidelines in its evaluation of proposals for multi-unit residential developments. The intention is to foster the design of new vertical communities suitable for households with children. Another recommendation that Council adopted as part of the same agenda item calls for prioritizing space for non-profit, licensed child-care facilities in new developments.
Action Plan for Transgender Youth
Council adopted recommendations for establishing an interdivisional working group to consult with the City's transgender youth advisory group (Trans Youth Advisory) on a trans-inclusive services action plan. Council also decided to expand the age range for members of Trans Youth Advisory to ages 14 to 29. The term transgender refers to people with gender identities and expressions that differ from stereotypical gender norms.
New Community Advisory Committee
Council adopted a motion to establish a Community Advisory Committee on Lesbian, Gay, Bisexual, Transgender, Queer, and Two-Spirited Issues. Staff were asked to recommend terms of reference and committee composition this fall. An earlier, similar City of Toronto advisory committee was disassembled in 2006.
Change to Lobbying Bylaw
Council amended the City's Lobbying Bylaw, extending the time period for starting a proceeding with the City's Lobbyist Registrar. As a result, the previous limitation period of no more than six months after an incident has been changed to within two years of an incident.
Cold Weather Shelter Services
Council authorized the Shelter, Support, and Housing Administration division to expand winter respite services, particularly for people experiencing homelessness who do not traditionally access shelter beds. Services for the coming fall and winter will be offered from October 15 to April 30. Winter respite services build on year-round homeless-support services, providing safe spaces for people who are otherwise vulnerable to extreme cold and winter related events.
Nuclear Emergency Preparedness
Council adopted a motion to ask the Ontario government to extend its current July deadline for comments on its discussion paper about preparedness for a nuclear emergency. Council is asking that the deadline be extended to September 30 "to allow municipalities and citizens to provide meaningful input."
---
Making King Street Work - King Street Pilot Project Approved
I'm very happy that at its July meeting, City Council approved our plan for the King Street Pilot Project. King Street is the busiest streetcar route in North America, carrying more than 65,000 riders on a typical weekday. It is a critical downtown spine, connecting neighbourhoods, the largest employment centre in the entire country, and diverse urban forms and uses.
We recognize that King Street isn't working. Streetcars are often stuck in mixed traffic, making it challenging to keep transit service running smoothly. This often results in bunching and gapping of vehicles, uneven utilization of capacity, streetcar congestion, and overcrowded vehicles. During rush hour people are often unable to board the first streetcar that arrives.
Over the past few years, the City and TTC have recently been making operational changes to improve streetcar service including: allowing all-door loading (to become more effective with the new low-floor streetcars), adding supplemental buses, extending turning and on-street parking restrictions, optimizing transit stop locations and route running times, adding route supervisors, and improving night service.
A more significant change is needed to improve transit service on this critical artery in our neighbourhoods. Like we're doing in so many other areas – community facilities, new parkland, and more – we must both catch up with growth and plan for the future. The King Street Pilot is our opportunity to do just that.
After multiple public meetings, stakeholder conversations, online surveys, and more, City staff have proposed a design that prioritizes transit while still allowing local traffic access. From Bathurst to Jarvis (the worst area of King, as found by the study) the pilot proposes:
An area where transit would be prioritized, but local traffic access would still be allowed. Local vehicle traffic can access King Street from north-south streets, but would have to turn right to leave King Street at some intersections.
Through traffic would use alternate east-west corridors.  There would be no east-west through traffic at key intersections within the pilot area.
Designated space for short-term loading, deliveries, and taxis, as well as new public spaces, would be provided
Overnight (10pm-5am) exemption for taxis to facilitate the safe departure of patrons from the Entertainment District (as with all aspects of the study, this will be studied for impact and effectiveness)
Throughout the study, extensive consultation has taken place with a variety of community and neighbourhood groups, businesses and BIAs, and other key stakeholders.

It is proposed that the pilot be installed in fall 2017, after the Toronto International Film Festival, with additional public space improvements to be implemented in spring 2018. The pilot is expected to be a minimum of one year in duration.
To find out more, take a look at this helpful info booklet on the pilot, and stay updated via the project website.
---
Mirvish Village Development Update 
Councillor Layton and I have prepared a joint letter that we will be distributing to residents in the Mirvish Village neighbourhood, with an update on the approved development plans.
You can view a copy of our letter here.
If you have any questions, my office would be happy to assist you.
---
Update on RentSafeTO: Apartment Building Standards Program 
Ensuring that all our friends and neighbours live in safe housing is a critical priority. I'm proud that City Council recently approved an apartment buildings standards program to help us move forward in doing that.
The RentSafeTO: Apartment Building Standard Program took effect on July 1, 2017 and applies to all residential rental apartment buildings that are three or more storeys tall and have 10 or more apartment units.
The online registration system for building owners is live, as of July 21, 2017.
Building owners have already begun to receive a letter, with a unique Login and password that will allow them to set up an account and register their buildings with the City. They will also receive a copy of the RentSafeTO: Building Owner Handbook that walks them through the new program.
If residents or building owners have questions, concerns, or comments they can go to: www.toronto.ca/RentSafeTO, e-mail [email protected] or call 416-396-7228, Monday to Friday, 8:30 a.m. to 4:30 p.m.
---
Grange Park – Open to the Public!
I am thrilled to announce that the new Grange Park is now open to the public.
Members of the Grange Park Advisory Committee (GPAC) - which includes myself, the Grange Community Association, the AGO, local residents, OCAD U, University Settlement, St. George the Martyr Church, and City of Toronto Parks staff – joined together on July 8th with countless residents to celebrate the more than 10 years of work in creating this truly unique park in our city.
Countless hours working together in public consultations, workshops, and more has resulted in a truly special greenspace in our community. The new and improved park includes:            
78 more trees than before the improvements began
Larger and updated play structures for children, including a destination playground, inspired by art supplies and the creative process
New and expanded seating
An off-leash dog area
Walking path and pedestrian oriented lighting for safety
Public washrooms and expanded horticulture
14 literary inscriptions leading into the Park
Thank you to all those who played such a critical role in stewarding this project through the years. For more information on the Grange Park Revitalization, visit the project website.
---
Airbnb and Rental Shortages – Public Consultation Begins on Proposed Regulations
While our City struggles to deal with the growing shortage of rental housing and affordability we've moved forward in setting out a regulatory framework that balances true home-sharing with the increasing loss of rental housing due to conversions to Airbnb listings.
At Executive Committee in June, next steps for public consultation on the proposed regulations were approved and will now move ahead. The regulatory framework includes:
·         Only permitting home-sharing at a home where you live: this aims to curb consolidation and purchasing of multiple vacant properties, then used for Airbnb rather than remaining on the rental housing market
·         Amending zoning bylaws to create a separate category called "short-term rental"
·         Licensing companies like Airbnb and others
·         Starting a registry of anyone operating a short-term rental unit
In all my discussions I have found that very few people oppose the principle of home sharing. People have been renting out rooms in their primary residences for years. However, Airbnb has completely changed the game. We are now witnessing entire rental units and houses being taken off the rental market to make way for short-term stays. This is problematic on many fronts. As businesses, these investor driven short-term rentals are not taxed fairly. As rental locations, few (if any) protections are in place to ensure protection for users or neighbours. And, most importantly, this model is strangling an already strained rental housing market in our City.
Kensington Market is a perfect example. Last month there were 12 rental units on the market in Kensington, and more than 100 Airbnb units. An entire neighbourhood is being pushed out of their homes to make way for short-term rentals. This is a sector in desperate need of regulation.
The online survey is now available here, and will be open until August 18. Additional stakeholder and public consultation meetings will be held in the fall. A final report is expected to be at Executive Committee in the fourth quarter of 2017.


---
250 Davenport Road Revitalization Update
Work on the next stages of the 250 Davenport Road Revitalization are beginning in the next few weeks. The project team has mailed a construction notice to the local neighbourhood, which you can access here.
As a reminder, in August 2013, TCHC approved the sale of approximately 1.6 acres of land at 250 Davenport Rd to Diamond Corp. and Metropia Inc., to help fund the Revitalization of the existing TCHC building. With a budget we increased from $6.2 to $14.7 million, the project includes extensive refurbishment of the 449-unit building, new market housing, local economic opportunities, and more.
The building improvements are now in the final stages. After extensive community consultation, the plans for the new market housing were approved late last year. A new market condominium and townhouse units will be built on the space to the west of 250 Davenport, in addition to the creation of a new park, community green spaces including a playground and space for the local food market, and a mid-block connection that will link Pears Avenue to Davenport Road.
Critical to the project is Transition 250, a Social Development Action Plan, which I was proud to work with residents of 250 Davenport to create. The Plan identifies the social and economic priorities – food security, health services, community, and capacity building – critical for building residents. Through the Revitalization, I am committed to working to implement the plan, in collaboration with the community.
If you have any questions about the work that is about to begin, please see the notice here for contact information.
As always, you can also contact my office at any time.
---
The Future of Toronto Community Housing – Tenants First Plan Approved by City Council
Last July, in response to the report Tenants First: A Way Forward for Toronto Community Housing (TCHC) and Social Housing in Toronto, Council adopted a set of strategic directions and requested an implementation plan to support the City's efforts to provide clean, safe, well-maintained, affordable homes to social housing tenants. As part of the earlier work, I was pleased that City Council passed my motion to ensure that we commit to providing the level of funding needed to improve and sustain TCHC, but also to ensure that the continued work towards accomplishing the above goals keeps the future of tenants, accountability, and equity at the heart of the process.
At City Council earlier this week, I was pleased that the report on Phase 1 of the Implementation Plan was approved. I was also pleased that City Council approved my motion to, as part of this week, direct Toronto Community Housing to ensure that no additional units are permanently closed in 2018 and 2019, and that a focus on tenant decision-making structures must be part of the ongoing implementation work for the new configuration of Toronto Community Housing, and any new entities created.
Over the last 12 months the project team, in partnership with an Advisory Group of TCHC residents, further developed proposals to improve Toronto Community Housing, including to provide it with the resources needed to truly provide safe, clean, well-maintained, and affordable homes to so many of our friends and neighbours.
The key components of the plan include:
- Transition of the 83 seniors-only buildings within TCHC to a new Seniors' Housing and Services agency, separate from TCHC and closer to the City (in accountability and day-to-day operations);
- A report back in the fall with an interim operating and capital funding model for TCHC to address current and short-term funding shortfalls for 2018 and 2019, as well as a permanent funding formula for the new TCHC and new Seniors Housing and Services entity;
- Moving forward with a local service model pilot program at TCHC to focus on decentralizing property/housing management services and innovative approaches to community development, including local action plans; and
- Authorization for City staff to issue a Request for Expressions of Interest (REOI) to the non-profit, co-op, and land trust sectors seeking interest, service models, and business cases for the operation of the 684 scattered social housing properties, including Agency Houses and Rooming Houses, and report with a recommended strategy by the end of 2017.
Over the coming months, I will be sharing information with many of our neighbours who live in TCHC communities to ensure that the details of the plan are fully understood.
The next step in the process is a follow-up report this fall which will provide more detail on the above changes, as well as others.
 As you have no doubt heard me say before, we are now at the most severe point in the TCHC funding crisis to date. In 2018 money for capital repairs, to address the over $2 billion backlog at TCHC, will run out. These are repairs to the homes of thousands of our neighbours, repairs that make their homes liveable. In 2018, the money runs out – and units are in danger of closing. This is not acceptable. We cannot let it happen.
What are the other levels of government doing? The Federal Government has promised funds but details are yet to be confirmed. And the Provincial Government is absent – they have made no commitment to provide any funding for these desperately needed repairs within TCHC. They must come to the table and fulfill their obligation to all residents of Toronto.
Let me be clear. Even without the partnership of the Federal and Provincial governments, we cannot let a single TCHC unit close in 2018. We must do more as a City if our government counterparts don't step up. The situation is too serious, the safety of our friends and neighbours too important.
I will continue to advocate strongly and loudly to push the Federal and Provincial governments to help the TCHC. I will also fight to ensure that not a single unit is closed in 2018.
If you'd like to help, please consider writing to your MP and MPP to advocate for the desperately needed funds for our social housing system and to Mayor Tory to let him know that closing TCHC units is 2018 is unacceptable.
---
Bathurst Quay Neighbourhood Plan Approved!
City Council has approved the Bathurst Quay Neighbourhood! This is a huge win for the community's vision, instead of outside interests. Thank you to the many, many residents who have helped to create the plan over three years of hard work and dozens of meetings, and advocated for its approval. Your efforts were invaluable.
The Neighbourhood Plan protects Bathurst Quay and has formally set in motion the steps necessary to achieve our long term goals for the neighbourhood:
1. Creating new high-quality parks and improving our existing public spaces;
2. Enhancing our community facilities including building a new public aquatic centre;
3. Re-energizing the Canada Malting Silos with a focus on arts, culture, open space, and community uses; and
4. Shifting airport traffic to public transit, walking, and cycling while relocating the remaining vehicle traffic to an underground drop-off loop.
Work toward implementing the Neighbourhood Plan is already underway and many community members saw our update on turning the lands around the Silos into a new public space at the BQNA AGM on May 10. We'll be coming back to a public meeting in the fall with a detailed design proposal for the lands around the Silos.
This is an exciting moment for Bathurst Quay and we should be proud of our collective achievement. Stay tuned for more updates on implementation!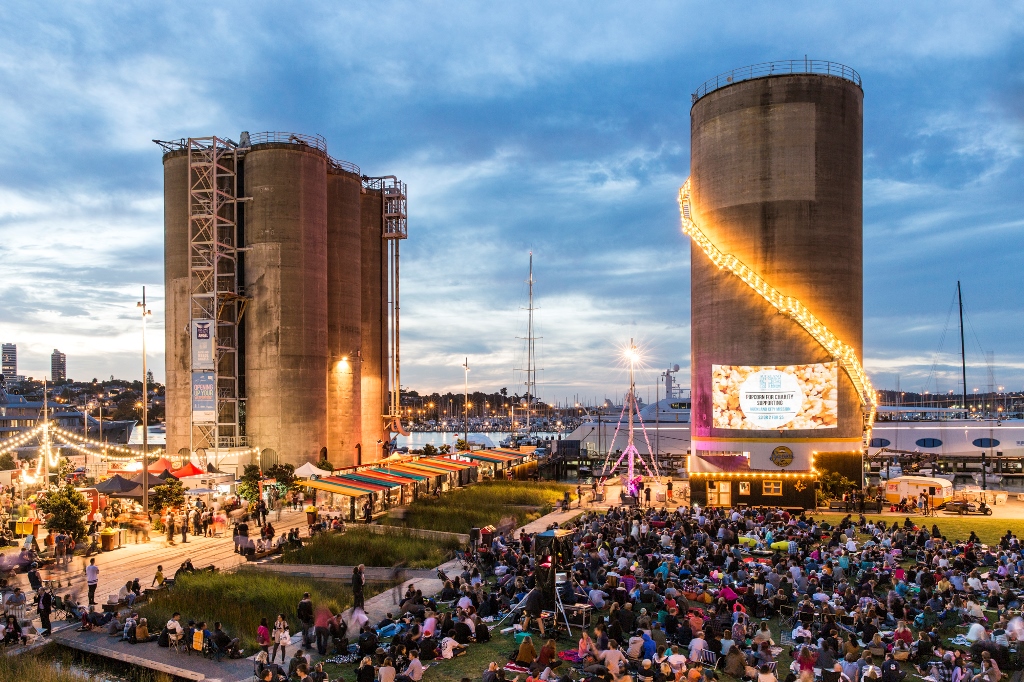 ---
Queen Streetscape Improvements
I'm happy to report that, although there has been some disruption to traffic flow on Queen and we miss the 501 Streetcar, the Queen Streetscape improvement project is moving ahead on schedule. We are quite pleased with the results so far. The south side of Queen is just about complete and contractors will be starting on the north side soon. As a reminder, all of your favorite establishments on Queen remain open throughout construction.

Once the sidewalks are complete our focus shifts to the parkettes on Ryerson Ave and Dennison Ave. Equipped with seating, greenery, and even infrastructure for free public Wi-Fi hotspots, these will be little urban oases. Based on the progress we've seen to date the whole of these streetscape improvements and parkettes should be complete on schedule for the fall.
---
Layers of Rush Lane
Last year we partnered with the Laneway Project, Queen West BIA, and Garment District Neighbourhood Association to present our inaugural "Layers of Rush Lane" laneway party. Building on that success, this year's event promises to be even better! We have been working with community partners to organize all kinds of exciting programing. The event itself will be on Sunday August 6th from 2pm - 8pm. Art, fashion, and forward thinking have always been hallmarks of the Queen West community and will be on full display. Check out this video of last year's event for a taste. I know it will be a great time, and I hope that you will be able to come down and join in on the festivities!
Also, a reminder, we are still looking for suggestions for what to call some of the unnamed lanes in the area. Our online portal submission is at namethelane.ca – feel free to suggest any names inspired by stories, memories, or evocative experiences that could be commemorated in these laneways.
---
The Doctor's Parkette & Margaret Fairley
We're very excited that two neighbourhood park improvement projects are now open for everyone to enjoy! Adjustments and final details remain, but on the whole we are thrilled with the quality of design. Equipped with a stage for community performances, play structures, swings, and a splash pad, Margaret Fairley Park is a fabulous active space for families. This weekend the splash pad surface is being re-finished to increase traction in wet conditions.
The Doctor's Parkette is oriented to more passive street side uses. The Portuguese pavers, benches, and lighting make for a welcome retreat from the hustle and bustle of College, right across the street from Kensington Market.
Stay tuned for news about official celebrations to mark the completion of these two great public realm projects. 
---
Monsignor Fraser College – Greening Project
As an advocate for increased and enhanced green spaces throughout Ward 20, I am excited to inform you that we are very close to finalizing the details on transforming the Monsignor Fraser South parking lot into a new community green space.
I have been working closely with the Toronto Catholic District School Board (TCDSB), Trustee Jo-Ann Davis, Parks, Forestry & Recreation staff, and the Seaton Village Residents' Association (SVRA) to reprogram this underutilized space into a benefit for the community. Last year the TCDSB hosted a meeting to discuss initial design iterations and preliminary budget estimates with the SVRA and local residents. There was a lot of excitement for the project and for more green space within the community. However, the proposed budget was far beyond what the TCDSB had available for implementation.
I am happy to report that we have secured City funding through the leveraging of Section 42, and we have partnered with the TCDSB to make the project happen! As a partner, the City will be agreeing to a long-term lease of the land from the TCDSB, creating a new public space open to the community at large.  
This a very exciting project – stay tuned for information on community consultation in the next couple of months to discuss details and solicit feedback for the final design. 
---
Laneways as Bikeways - Community Ideas Survey 
I would like to invite Ward 20 residents to be part of an innovative conversation about getting around in our city. Toronto's population is growing and so is the number of people who cycle. The city's cycling network of multi-use trails, protected and unprotected bike lanes, and sharrows is also expanding but has gaps that can make safe cycling a challenge.

The Laneway Project, the Canadian Urban Institute and the Community Bicycle Network are working together to explore opportunities for using laneways to fill gaps in Toronto's cycling network. The project will identify challenges and possible solutions that can be implemented in the short and medium terms, while more significant infrastructure investment is being undertaken as part of the City's Cycling Network Ten Year Plan. Please refer to the Project Backgrounder for an overview of Toronto's cycling network and laneway network, current cycling trends and stats and some observed challenges and opportunities.
As part of this initiative, we've prepared a short survey to gain input from Torontonians living and working around the city's laneway network, both cyclists and non-cyclists, regarding the challenges and opportunities that exist for using Toronto's laneways as cycle routes. 
---
Stay in touch with Trustee Malik
Sign-up to Trustee Ausma Malik's e-newsletter for regular updates from her: http://eepurl.com/9xckn. 
---
Development Meetings
There are no upcoming development meetings in the next month. Enjoy your summer!
---
Upcoming events
August 6th

Layers of Rush Lane
12pm - 7pm
Location: Rush Lane, between Portland and Augusta, just south of Queen W


August 11th

Grange Festival
11:30-3:30pm
Location: Grange Park 


August 19th & 20th

The 17th Toronto Chinatown Festival
19th: 12pm - 11pm & 20th 11am-8pm
Location: West side of Spadina Ave (between St Andrew and Sullivan)
August 20th & September 17th

Open Streets TO
10am - 2pm
Location:
For more information, check out this website! 

https://www.openstreetsto.org/
---
Constituency Hours!
A reminder that I hold constituency hours every Friday at the Scadding Court Community Centre (707 Dundas St. West).

Please call 416-392-4044 or email [email protected] for an appointment.
---